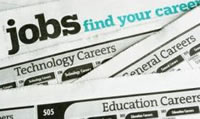 Local and regional employers don't always post on major jobs sites like Monster but instead may advertise in a local newspaper to avoid being overwhelmed with job applicants. This is especially true when few or even a single employment position is open.
Many print newspapers, especially daily papers, have online editions which list help wanted classified ads. These employment ads are typically searchable by date, category, keyword and employer location. Online, Craigslist is a valuable job search tool if you're looking for a position with a small to midsize company. There are new listings every day.
Many cities have live job fairs and expos attended by employers with current job openings. Attending career and job fairs is an effective way of identifying employers and networking with industry professionals.
Social and professional networking Websites are an excellent source of job listings and networking contacts to help you in your job search. Some of these sites allow you to craft a resume, increasing your chances of getting a job and decrease the amount of time spent searching for a new one.
Many employers list job openings on their Web site. Their is usually less competition using this method. If you know what companies you are interested in working for, you can go directly to the source and apply for a job online. Many of the larger employers will have listing, include details such as compensation and minimum qualifications, for all level positions from part-time hourly jobs to top management positions. In addition to private, for profit employers, the Internet is a valuable medium for jobs with government (both state and federal), non-profit organizations, and schools.
A resume is needed in almost every instance when applying for a job. It is often the first point of contact you have with a potential employer. To be successful, the resume must be well-written, properly formatted, and effectively communicate your professional background. Always provide a precise picture of your work history. Write a powerful career summary. Avoid frivolous personal information and always be accurate. Even if your job skills don't exactly match what an employer is seeking, a good resume can often win you an interview.
Job hunting during the recession? Research industries and job sectors that are experiencing worker shortages or still experiencing job growth. The Bureau of Labor Statistics (BLS) is a unit of the United States Department of Labor and releases updated figures every month on occupational job growth. Many state governments publish similar employment figures.